Are you familiar with Elisabeth Elliot? Her ministry spanned many decades, from the late 50s when she wrote about the martyrdom of her husband and four fellow missionaries—Jim Elliot, Nate Saint, Ed McCulley, Roger Youderian, and Pete Fleming.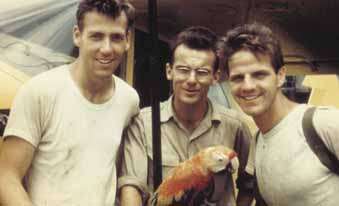 Roger, Pete, and Jim
These men had a burden to reach an uncontacted tribe in the jungles of Ecuador with the gospel
. The tribe, called "Auca" at that time, killed all outsiders who came into their area. After much prayer, some language study, flying over their homes in Nate's little Cessna and dropping gifts to the tribes-people, the missionaries landed on a beach near one of the villages and met three Aucas. The next day, unbeknownst to the men, the Aucas had an argument about what to do with these outsiders. Finally, several of the young men from the tribe took the situation into their own hands and speared the missionaries to death.
Pete with a visiting "Auca"
Today the tribe, now known as the Waoranis (their own name for themselves) has many believers and is praying about reaching the "Downriver Waoranis" who still kill all outsiders, including their distant tribal relatives.
The book about this is Through Gates of Splendor and then she wrote more about Jim Elliot in Shadow of the Almighty. (By the way, both of these books would be great to read to your elementary aged or older children!)
Elisabeth with "Aucas"
She went back to the mission field for a while and actually was able to live among the Waorani with her young daughter for a time before God brought her back to the states where she had a prolific writing and international speaking ministry. From the late 80s into this century she even had her own radio program.
Did you notice that one of the martyrs was also a Fleming?
Pete Fleming was my father-in-law's brother. When we lived in Peru we worked closely with Bert Elliot, Jim Elliot's older brother. So there's a connection there.
Elisabeth Elliot wrote the book The Shaping of a Christian Family in 1992. This is the story of her family, of how her parents raised her and her five siblings. It has many thought provoking ideas and suggestions on how children are brought up. Of course, some of them have to do with family mealtimes and I thought I would share some of those with you.
On Family Devotions:
"[Father] was strict, but he was also merciful to us, reading no more than a page or so a day from Hurlbut's Story of the Bible, an adequate spiritual dose for the youngest in the circle."
"After supper we were not excused from the table until our father had read a portion of Scripture."
On the Value of Manners:
"Table manners cannot be skipped over, for if there's one area where the spiritual and emotional climate of a home is revealed it's at the table."
I have to admit there were times when our everyday table climate revealed things I didn't want in my home. How about yours? Take heart! Today with my nearly grown kids, we enjoy almost all of our mealtimes together.
On Chores:
"We were all members of the family. Everybody but the baby was a working member of the family."
She referring to the times when one of her four younger siblings was actually of "baby" age—probably about two or under.
On Hospitality:
"The menu for guests could not be much more than our usual family fare, but another place or two could always be set at the table."
Guests love to be invited. They don't care if it's fancy food or everyday food. The invitation and time of fellowship is enough.
"My parents knew how important it was for us children to meet Christian men and women from all walks of life, to hear firsthand their stories of the faithfulness of God, and to enjoy the privilege of asking them question."
Have you ever tried telling your children a little about the guest who is coming and asked them to each come up with a question for him or her? We visited one family who made this an assignment for their children before we—as visiting missionaries—arrived at their table. The kids had some interesting and insightful questions.
If you aren't familiar with Elisabeth Elliot's books, I recommend almost any of them, but especially this one and Through Gates of Spendor.