Would you like your family to linger longer at the table?
...to sit and visit?
...to be willing to take time to be with family rather than whatever else might be calling them?
There are strategies for this:
Serve your meal in courses—a salad or soup before the main course not only has nutritional value, but lengthens the time it takes to eat, and therefore, the time people spend together at the table.

Make a rule

—you can't leave until __________ (you are excused, the closing prayer, we've had devotions, everyone else does; whatever rule you want to make). And ask them to come back if they do. Many of our children's friends were taught that when they finished eating they could take their dishes to the kitchen and go play. When they did this at our house I would ask them to come back and join us for devotions.

Stay at the table yourself

—a glass of spilled milk might send you running for a cloth, but try to have everything you normally need for the meal on hand at the table when you sit down. This takes preparation, but we noticed when our children were young that if I got up from the table, others were more likely to do it, and possibly even leave.

Avoid criticism

—We've been accused of "never listening" and "only criticizing." Guilty as charged, at least some of the time. So we try to listen, listen, listen, and ask questions without becoming critical or judgmental and they'll want to stay because the dinner table is a pleasant place.

Don't do the dishes

—for some this will take the greatest effort of will power they've ever called upon, for others, it's the happiest advice they've ever heard! I mean don't do them

right away

. Let them sit on the counter while you…

Have dessert and/or coffee

—when you clear the dishes away, do it with a promise of dessert to come. If your children are small you might add, "For those who stay in their seats." Everyone is served dessert at the same time, when all are finished with their main course. We don't have dessert every night because most of us are trying to watch our weight, but we can have a bowl of fresh fruit or even just coffee to linger over.

Have devotions

—have your Bibles and devotional book right by the table so no one gets up. Make this a habit and they'll know they stay through devotions.

Do the dishes together

—this is my ideal, the child who stays and does the dishes talking to Mom while they work together, discussing the days events, going deeper into conversations started at dinner. Notice I said, "Ideal". I know some families achieve this, but my kids are pretty normal and want to rush through the dishes as fast as they can so they can get back to whatever it is they want to get back to.
You may have thought that my kids always linger, but they and we are normal. Life is rushed. There are prayer meetings, committee meetings, yard work, homework, friends, and the Internet calling. Some days it's eat and run. Others I do succeed in getting them to linger longer and that's when I feel the warm glow of motherhood I long for.
Linking with: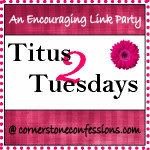 Lessons from Ivy